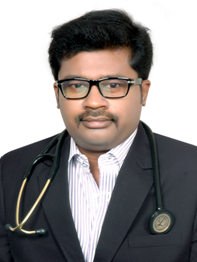 Dr.C.Vijay Babu is trained as both an MD in internal medicine with a fellowship in Diabetology and in emergency cardiology.  His unique and extensive blend of education and training benefits patients by combining the functional and scientific aspects of medical care. In addition, Dr.C.Vijay Babu has authored and co-authored more than 30 scientific presentations and has been an assistant professor in the Department of Medicine at Chengalpattu Medical College , SRM Medical College & Research.
Today, his life revolves around taking terrific care of his patients both at his own Clinic and Consulting Hospitals.
He enjoys seeing people succeed and reaching their full potential and provides mentoring support in many areas of his work.
He visits B.M hospitals, Nanganallur and K.P Hospitals, Adambakkam as a Consultant.
Educational foundation:
MBBS :  Madurai Medical College (1998-2004)
M.D    :  Madurai Medical College (2005-2008)
F.Diab :  American Diabetic Association (2009-2010)
C.E Card : Certificate in Emergency Cardiology
Additional Qualification:
Certificate Course in Thyroid Disorders (Indian Thyroid Society)
Certificate course in GDM (Gestational Diabetes Mellitus ) from PHFI (Public Health Foundation Of India)
Certificate Course in Osteoporosis and Bone Health from Indian Society For Bone and Mineral research (ISBMR)
Trainer in National Diabetes Educators Program (NDEP) for three consecutive years.
Advanced Certificate course in Diabetes (June 2010-June 2011) conducted by Prof.M.Viswanathan – Diabetes  Research Centre & M.V Hospital for diabetes.
Certificate in Insomnia Specialist Education Program conducted by American Academy of continuing Medical Education.
Certificate course in Management of APD (Acid Peptic Disease) & IBS (Irritable Bowel Disease) conducted by Boston University.
Certificate Course in Cardiac Emergencies conducted by Boston University.
Certificate course in Prostrate disorders conducted by Boston University.