At Diya Health Clinic, We use the latest technology for all our treatments. Keeping updated with the latest trends in Medicine and Technology has been our prime focus since inception.
Diya Health Clinic can be rightly termed as the one stop point for all your medical needs. From General Medicine to Specialty Treatments, we have it all under one roof.
Even though we work on specific hours for consultation, we are always reachable in times of emergency and distress.
About Dr.C.Vijay Babu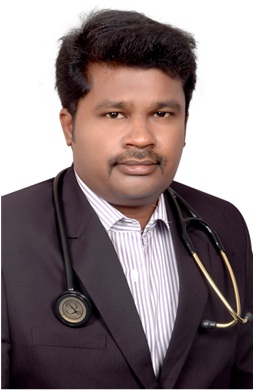 MBBS :  Madurai Medical College (1998-2004)
M.D    :  Madurai Medical College (2005-2008)
F.Diab :  American Diabetic Association (2009-2010)
C.E Card : Certificate in Emergency Cardiology
Dr.C.Vijay Babu is trained as both an MD in internal medicine with a fellowship in Diabetology and in emergency cardiology. His unique and extensive blend of education and training benefits patients by combining the functional and scientific aspects of medical care. In addition, Dr.C.Vijay Babu has authored and co-authored more than 30 scientific presentations and has been an assistant professor in the Department of Medicine at Chengalpattu Medical College , SRM Medical College & Research.
 Why Us?
We are equipped with modern interiors and setup, making our facility a state of the art medical clinic.
We are specialists in General Medicine, Cardiology, Diabetology, Rheumatism, Obestity, Geriatrics etc.
At Diya Health Clinic we follow the latest trends in medicine to treat all our patients.